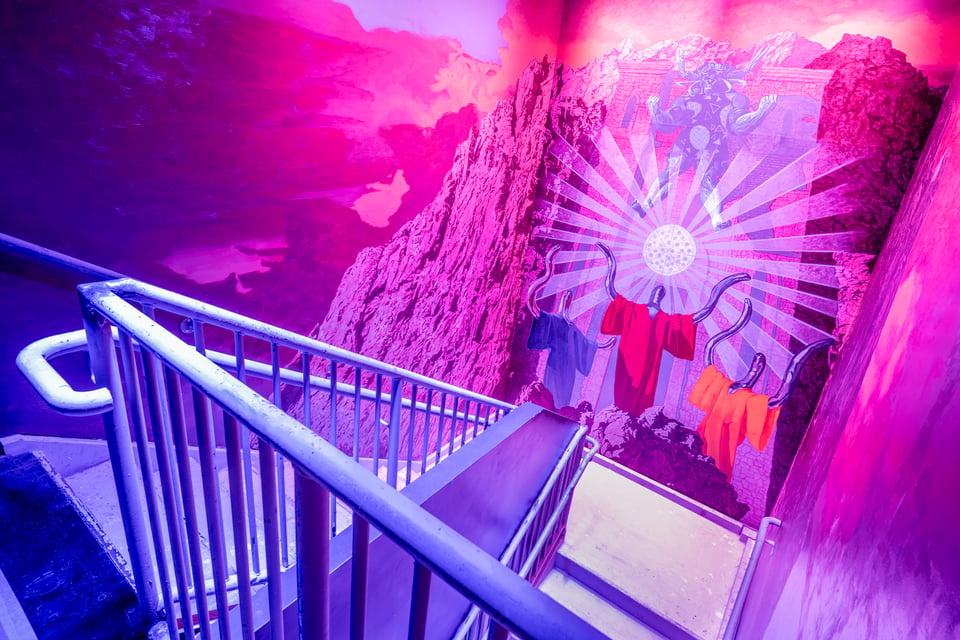 This painting recounts an event from a little known legend – one that revolves around an ancient pizza worshipping cult known as the Pizza Boyzz (PBZ). The PBZ inhabit multiple dimensions, united by their shared veneration of the Sacred Pi, enamored by its hidden mysteries and promises of spiritual and healthful glory. During the course of their history, a super-powered, crab-headed mutant antagonist known as the "Pizza Freak" is created, pictured here floating menacingly in front of a PBZ temple. A series of events has lead the Pizza Freak on a quest to seek and destroy the PBZ across all dimensions. Here, the Pizza Freak emerges from a wormhole in one such dimension. Below, three humanoid PBZ elders, the Liquid Chrome Mystics, are mid-ceremony, moments away from potential annihilation. But does the Pizza Freak actually succeed in its vengeful quest?
The piZzA fReAk Emerges Contributors
The credits page is organized by different levels of contribution: Exhibition, Anchor Space or Project.
You're on a project page within the Neon Kingdom Anchor Space in the The Real Unreal Exhibition.